Unlike our friends belongs from another religious schooling, it's not mandatory for us to visit a temple on a regular basis for religious purposes. But being frequent to temples revitalize positive energy, so whoever lives in Sydney, other Australian cities, suburbs as well must visit temples at least once in a month. It helps to maintain emotional as well as spiritual well-being.
In our culture temples are not a structured religious edifice which enforces different 'do's and 'don't's in personal life; they don't interfere and play crucial roles in our marriage as well as funerals. In actual temples are a powerhouse, from where you feel energized from the bottom of your heart and mind. 'Mandir' and 'Mantras' are the source of courage and stimulation, 'Mantras' in 'Mandir' produces the positive vibes which revive your optimistic thoughts and positive energy. These help you to survive in such a fast paced city, culture with full of rejoicing and concentration. There would be the contented atmosphere and people, for networking and strengthen social harmony with the expansion of it, also helps you to cope with a situation. That's why people visit temples, for religious purposes every Hindu has a small 'Puja Room' in a home and photo beside them who are staying on room sharing.
Recently UK data also proved Hindus are Happiest in this world.
Although, there is no clear demarcation on when Hindus started to construct temple but it's accepted that more than 2000 years old thing. In Australia it begins with growing Hindu population migrated from India, Nepal and other Asian countries at the moment there are dozens of temples in Australia. Here are some of them, altogether 20 located New South Wales and Sydney:
20 Temples for Hindus in Sydney  
1. Ram Krishna Temple Austral
Address: 275 Fifteenth Avenue, Austral, NSW
Telephone: 0411 101 700
Website: www.ssds.org.au
2. Shirdi Saibaba Mandir Castle Hill, Sydney
(Kripasindhu Sai Sansthan)
Address: Unit 47, 5, Gladstone Road, Castle Hill
Email: contact@shirdisaibaba.com.au
Website: www.shirdisaibaba.com.au
3. Shree Sanatan Dharm Sabha Ram Krishna Temple
Address: 24/7 Lyn Parade, Prestons NSW 2170
PO Box 624, Moorebank NSW 2170
Phone: (02) 9608 6099
Website: www.ssds.org.au
Email: ramkrishnatemple@hotmail.com
4. Sri Mandir Hindu Temple, Auburn, Sydney
Address: 286 Cumberland Road, Auburn, Sydney, NSW 2144
Phone: (02) 9643 1919
Email: srimandir@hotmail.com
Website: www.srimandir.org
5. Hare Krishna (ISKCON) Temple North Sydney

Address: 180 Falcon Street, North Sydney NSW 2060
Phone: (02) 99594558
Fax: (02) 9571893
Email: info@iskcon.com.au
6. Hare Krishna (ISKCON) Temple Newton

Address: 3296 King Street, Newtown, Sydney, NSW 2042
Phone: (02) 5506524
7. Hare Krishna (ISKCON) New Govardhana Temple and Farm, Eungella, NSW
Address: 525 Tyalgum Road, Eungella, New South Wales
PO Box: ISKCON New Govardhana, PO BOX 157, Murwillumbah, New South Wales, 2484
Phone: +61 2 6672 6579
Website: http://www.krishnafarm.com
8. Hare Krishna (ISKCON) New Gokula Farm

Address: 83 (Lot 1) Lewis Road, Millfield  NSW 2325
PO Box: 399, Cessnock, NSW 2325
Phone: (02) 4998 1800
Website: www.newgokula.com
9. Shri Swaminarayan Hindu Mandir
(Bochasanwasi Shree Akshar Purushottam Swaminarayan Sanstha – BAPS)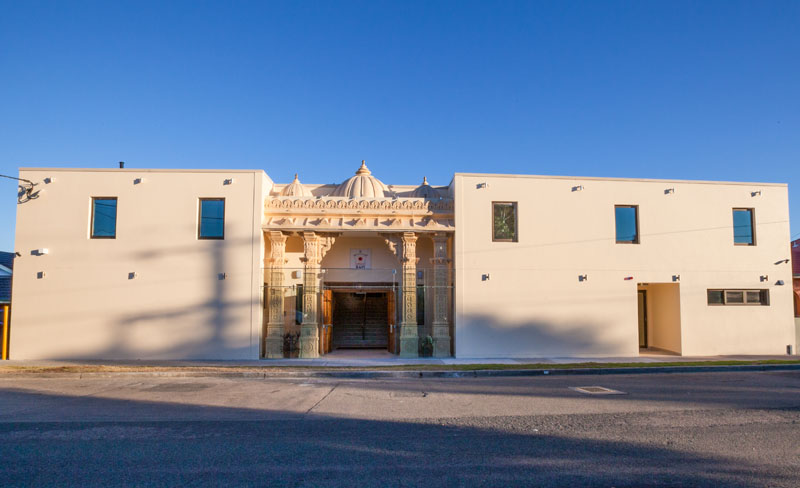 Address: 40, Eleanor Street, Rosehill, N.S.W. 2142
Phone: +61-2-9760 2277
Fax: +61- 2- 9760 2276
Website: www.swaminarayan.org/globalnetwork/fareast/sydney.htm
10. Mukti-Gupteshwar Mandir
Address: 203 Eagleview Road, Minto NSW 2566
Phone: (02) 9820 375
Mobile: 0413 139 000
11. Sita Ram Mandir
Address: 47 Wattle Avenue, Carramar, Sydney, NSW 2163
Phone: 02 9788 8261
12. Sri Durgadevi Devasthanam
Address: 21 Rose Crescent, Regents Park NSW 2143
Phone: (02) 9644 6682, (02) 9746 9724
Website:  http://www.sydneydurga.org/
13. Shree Swaminarayan Mandir (Kalupur)
Address: 1/44 Bessemer St., Blacktown NSW 2767
Phone: 02 96764480
Website: www.swaminarayansydney.org.au
14. 

Shree Pashupati Nath Temple
Address: 22 Talbot Rd, Guildford NSW 2161
Phone: 0411 838 449
Madan Mani,currently studying M. Tech. (Software Engineering) in Federation University, Australia, holds Master's Degree in Journalism and Mass Communication.